What do you want to change? Spit it out!
Donald, a full-service mechanical and plumbing contractor in Wilsonville, OR, told Session 7 of Turbo Leadership Systems' Leadership Development Lab (LDL):
"I had been struggling for years; tried about everything to quit tobacco. My tobacco habit has always affected my attitude. It has been a horrible cycle. It seems like even on tobacco, when I had a dip in, I was a little on edge. When I was out Copenhagen . . . watch out!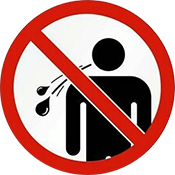 "This lifestyle wasn't a good fit for a happy family life, not the best for my career and my overall well-being. I had quit hundreds of times. Most of those times turned out to be anywhere from 15 minutes to an hour long. When my brain seemed like it was starting to shut down, I told myself I can't handle this urge and stress - then I and took out another chew. That's when Turbo's 5X Challenge came along and I said to myself, 'It's time.'
"I knew I had to put 5X more enthusiasm - 'commitment in action' - into the effort. With my red dot as a reminder and the encouragement of my support person, I am excited to report that I'm 6 weeks tobacco free!
"The lesson I learned from this experience is not to hold back. If I really put my mind to something and give it that extra bit; 5X's more effort I really can do anything.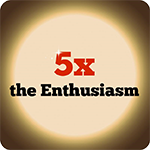 "The action I call you to take if you have something you have been meaning to do, don't wait, put out the effort, 5X more enthusiasm - 5X more commitment in action, and you will do it.
"The benefit you will gain is finally beating that thing that's been holding you back."
I wish you could have been there to hear Don's story. Words on paper can't capture the sense of victory, joy and conviction I heard in Donald's voice and saw on his face.
I dare say we all have one or two habits that we aren't proud of; these hypnotic rhythms could be holding you back. Sometimes, they are as simple as a scoop of ice cream at bedtime, sleeping in too late. The first step is to get brutally honest with yourself - stop the justification, stop the excuses. Decide what you want to be free of - what you want to change, write it down, tell a friend you can count on for support and encouragement. Be sure they won't enable you by adding to your excuses, then and apply 5X's more enthusiasm. You will be amazed at what you can do.
TURBOCHARGE YOUR TEAM!
Winter 2019 Leadership Development Labs (LDL)
forming NOW
Wilsonville, OR and Vancouver, WA
Don't wait! Call now - classes sold out early last winter
Call or email us today for more info:
Larry@turbols.com or 503-329-4519

Ask about free intro workshops and association discounts.
Follow-up: June 20, 2019
Follow Up for Tobacco 5X Free
Sam, a Leadership Development Lab (LDL) graduate and Project Manager for a leading heavy civil general contractor and construction management firm headquartered in Woodburn, Oregon sent the following email to our office in response to Tobacco 5X Free:
From: Sam Kennedy - Kerr Contractors
Date: June 18, 2019 at 11:45:59 AM CDT
To: larry@turbols.com
Subject: RE: Tobacco 5X Free
That was one of my goals in the 2014 Turbo Class.
I fell shortly thereafter, but got back up again and am pleased to say that I now have been 100% nicotine free for 2.5 years.
I never believed in a million years that the day would come when I would not only be a non-user but also have all the desires and cravings lifted.
There is a big difference between being a non-user and still fighting the urge and being free of the desire. I am truly free today!
I see he has six weeks so, if his experience is like mine, he is through the most difficult part. For me, it took another couple of months though before I started to really feel free from it. It's a big deal that he has six weeks!
Please pass on my encouragement and congratulations to Donald. If this 3-can-a-day guy can do it, he can do it!
Best thing I ever did."
Habits can be easy to form and hard to break. It's important to remember that you're the one who formed your habits and you can break them. Sam and Don did it with focused 5X more enthusiasm. You can to.